4-128 Vibration Sensor
Lightweight and Simplified Vibration Sensor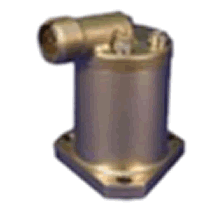 Features:
Self-generated, high level, low impedence output
Operates to +700°F (+371°C), +900°F versions are available
Weighs only 2 ounces
Applications:
Aircraft Engines
Test Cells
Industrial Turbines
Description:
CEC designed the 4-128 Vibration Sensor for turbine applications. You can use them in turbine hot sections where high temperatures can cause problems with other sensor.
The system is simplified due to the low impedance, high level output that can drive AC meters, recorders, and control electronics without using special amplifiers. They have low sensitivity to transverse accelerations, and you can mount them in any plane.

4-128 Specification Sheet, 206 KB