Aero Engine Test Facilities
Our engineers work closely with our partners on both conceptual and detail designs for aero engine test facilities. We have experience in both enclosed, uninstalled engines (UETF) and installed, QECU configuration, outdoor Mobile Engine Test Systems (METS). Working with Original Equipment Manufacturers (OEM), end users and facility providers, we are able to provide impartial design advice which is often invaluable to our customers.
Aero Support have experience in design solutions for both green and brown field building locations, providing guidance planning and program management services. Having had experience in operating aero engine test facilities, our engineers are uniquely placed to provide focused design requirements from the users perspective.
We provide an impartial approach to facility design, which is often necessary to bridge the gap between the OEM and the end user.
Our engineers can provide engine test facility training and calibraton programs to ensure the facilities are operated safely and correctly.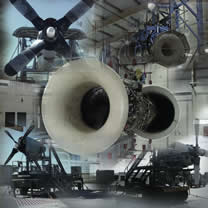 Aero Engine Test Cell Design & Support
During the last 25 years Aero Support engineers have been responsible for the design of instrumentation and control systems and performance analysis software for many engine types including the following:
Rolls Royce:
T56-A-15 (C-130H Hercules)
AE2100D3 (C-130J Hercules)
T56-A-14 (P3 Orion)
501 series (commerical)
Adour Mk871 (BAe Hawk)
Conway mk301 (VC-10)
Honeywell:
ALF502-R5 (BAe 146)
ALF507-1F (Avro RJ)
APUs (full range)
Experience Highlights
T56-A-15 : C-130H
Our engineers have vast experience in designing and supporting engine test facility solutions for the T56-A-15, in both the bare (uninstalled) and the QEC (installed) configuration.
Our experience covers test facility design, instrumentation and control for both engine and facility, design and development of the application test software and overall program management for turnkey test facility solutions.
T56-A-14 : AP-3C Orion
Aero Support has been responsible for developing a complete engine test cell solution for the T56-A-14 engine in both uninstalled and QEC configuration. Our engineers provided conceptual and detailed facility design, total instrumentation and control and application software development.
501-D22A : Lockeed L-100
Our engineers developed application test software for this widely used engine type, in both the uninstalled and the QEC configuration. A touch screen engine control application was also developed.
Adour Mk871 : BAe Hawk
Aero Support engineers were responsible for the full instrumentation and control design, application test software, installation and commissioning for an Adour Mk871 turbofan aero engine test facility.
Responsibility included design, installation, commissioning, training, OEM correlation and full in-service support.
M53-P2 : Mirage 2000
Our engineers were responsible for liaising with the OEM and the end user to ensure the facility design met the requirements of the end user. Our engineers designed the instrumentation and control system, application test software and the PLC engine/facility control.
Responsibility included design, installation, commissioning, training, OEM correlation and full in-service support.
ALF-502 / LF507 : BAe 146
Our engineers were responsible for the conceptual facility design, which enabled our customer to obtain planning permission to build an aero engine test facility within a restricted area.
Aero Support developed the instrumentation control system and the application test software. We were responsible for the facility commissioning, correlation, training and support. This project involved integration with the main Honeywell test data reduction program in Phoenix, where data from the test cell was seemlessly transmitted Phonix for further analysis and trending.