4-123 Vibration Sensor
Vibration Sensor Suited for Turbine Applications.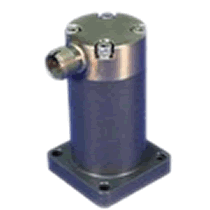 Features:
Self-generated, high level, low impedence output
Weighs only 4.25 ounces
Operates to +500°F (+260°C)
Applications:
Aircraft Engines
Test Cells
Industrial Turbines
Power Generators
Engineering Test and Research
Description:
CEC's 4-123 Vibration Sensors are particularly suited to turbine applications. They operate to +500°F, have low sensitivity to transverse accelerations, and can be mounted in any plane. The low impedance, high level output requires no special amplifiers, simplifying your measurement system. Precision jewel bearings provide nearly friction-free movement for long life reliability.

4-123 Specification Sheet, 423 KB