4-118 Vibration Sensor
Space Saving and Light Weight Vibration Sensors.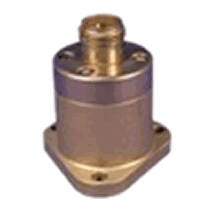 Features:
Miniature, for space limited applications
Self-generated, high level, low impedance output
Weighs only 2.2 ounces
Operates to +500°F (+260°C)
Applications:
Self-generated, high level, low impedence output
Test Cells
Civil & Military Aircraft Ground Support
Description:
CEC's miniature 4-118 Vibration Sensors are especially valuable where space is limited, and where heavier sensors would invalidate your results. These sensors can be used in high temperatures, have low sensitivity to transverse accelerations, and can be mounted in any plane.
The measurement system is simplified because the low impedance, high level output can drive AC meters and recorders without using special amplifiers. These features make them suitable for many applications on jet engines, turbines, high speed motors, superchargers, internal combustion engines and in test cells.

4-118 Specification Sheet, 106 KB