1-809 Vibration Transmitter
Measure and Protect Critical Equipment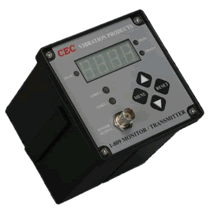 Features:
Dual Programmable Alarms
4-20 mA Output
Selectable Filtering
Buffered Vibration Output
Three-way Isolation
Applications:
Turbochargers
Generators
Industrial Fans & Blowers
Compressors
Description:
The 1-809 is a single channel vibration monitor designed to measure and protect critical machinery. The machinery vibration level is displayed on a 4-digit LED display. The reading can be displayed in inches per second (ips) velocity, g's acceleration, or mils displacement. A 4-20 mA output signal is provided proportional to a pre-determined vibration level.

1-809 Specification Sheet, 40 KB