1-808 Vibration Transmitter
Quality Monitoring Meets Compact Design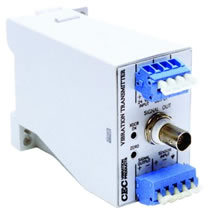 Features:
Calibrated 4-20 mA output proportional to transducer input
Buffered output
Includes Filtering
Signal / Cable monitoring
Applications:
Industrial Turbines
Remote Machine Monitoring
Turbine Driven Power Generators
Gas Transmission Generators
Description:
The 1-808 is designed for the industrial environment where machine monitoring is important and space is at a premium. Each 1-808 Vibration Transmitter includes a high-pass and low-pass filter and the transmitters are configured to the customer's specification at the CEC factory. By providing a calibrated 4-20 mA output signal, the 1-808 Vibration Transmitter is ideal for use with PLC's, DCS's, remote displays, or other electronic systems.

1-808 Specification Sheet, 296 KB